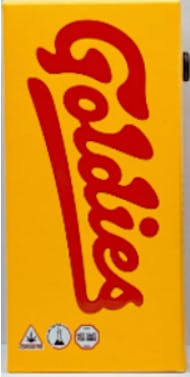 Brand: Goldies
XJ-13 Distillate Cartridge | 1g | Goldies
XJ-13, also known as "XJ13" and "XK Thirteen," is a hybrid marijuana strain made by crossing Jack Herer and G13 Haze. The effects of XJ-13 may produce cerebral effects that are perfect for stimulating creativity and conversation. As if we needed another reason to love this strain, XJ-13 consistently exhibits a strong citrus aroma accented by notes of earthy pine. Our distillate is a refined cannabis oil that has been separated from plant waxes, fats, and chlorophyll. It is then distilled "cleaning" the oil from any botanical particles. This distillation creates a cannabis extract that are pure on a molecular level that it has a much higher TAC potency than our Sauce. Goldies, delivering consistent, premium quality, concentrates that are As Good as Gold.
Effects
Calm
Happy
Relaxed
Energetic
View Product Testing Data
CBD (Cannabidiol)
0.28%
CBD (Cannabidiol)-0.28%
CBD is the second most prevalent cannabinoid and is primarily produced by hemp plants and at lower amounts in cannabis. It works as a phytocannabinoid, or binding agent, that adheres to an individual's endocannabinoid system. Cannabidiol has soared in popularity due to its lack of psychoactive effects. Most users seek CBD for its medicinal properties since it was the first cannabinoid to be approved by the FDA. Its healing properties include an ability to help you relax, reduce irritability and ease restlessness.
CBG (Cannabigerol)
2.93%
CBG (Cannabigerol)-2.93%
Cannabinoids are synthesized by Cannabigerolic Acid. CBG is the decarboxylated form of this acid that appears at low levels in most cannabis plants. Because its properties are beneficial to multiple parts of the endocannabinoid system, CBG has a wide range of therapeutic uses. It is non-psychotropic and can provide analgesic and antidepressant qualities.
CBN (Cannabinol)
0.5%
CBN (Cannabinol)-0.5%
CBN is a cannabinoid that is created during the breakdown of THC by UV light and exposure to oxygen. This breakdown usually begins during the drying and curing process. CBN is most commonly found in older or improperly stored cannabis samples. This compound is mildly psychoactive and is best known for its sedative effects. Strains and products with high concentrations of CBN can be a great choice for users looking to utilize cannabis products to ease restlessness and promote healthy sleep.
"TAC" - Total Active Cannabinoids
91.7%
"TAC" - Total Active Cannabinoids-91.7%
Total active cannabinoids represent the total amount of active cannabinoids at the time of lab testing. This total of active cannabinoids considers all of the active compounds that the product holds.
THC-D9 (Delta 9–tetrahydrocannabinol)
86.3%
THC-D9 (Delta 9–tetrahydrocannabinol)-86.3%
Delta 9 THC is the primary compound found in the resinous glands of a cannabis plant, and is directly responsible for psychoactive effects. It mirrors the body's naturally occurring cannabinoids and attaches to these receptors to alter and enhance sensory perception. THC can create a feeling of euphoria by enhancing dopamine levels in the brain. The amount of THC in a cannabis product can vary widely based on the method of consumption and the strain at the source of that product. The high that is produced is often enhanced by the "entourage effect" which is a combination of multiple cannabinoids in conjunction with various terpenes and individual body chemistry.
THCV (Tetrahydrocannabivarin)
0.56%
THCV (Tetrahydrocannabivarin)-0.56%
THCV sets itself apart from its cousin THC with its distinct lack of psychoactive effects. THCV also acts as an allosteric modulator for Delta-9-THC thus reducing its psychoactivity. It has been found to be helpful as an appetite suppressant, neuroprotectant and glycemic control in type 2 diabetics.
About the brand :
Goldies
Goldies is the ultimate good time partner-in-crime. She is both the planner, ensuring a good time is had, and the spark that ignites your wild side. Down to earth and enthralling, Goldies is conversational topped off with a healthy splash of charming wit.