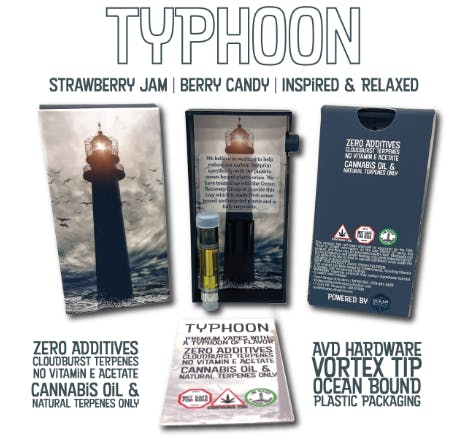 Brand: Typhoon
Strawberry Jam Distillate Cartridge | 1g | Typhoon
We believe in working to help reduce our carbon footprint specifically with the planet's ocean-bound plastic crisis. We have teamed up with the Ocean Recovery Group to provide this tray which is made from ocean bound and recycles plastic and is fully recyclable! Plastic Tip Borosilicate Glass Plated Lead-Free Brass Center Post Ceramic Core With A Fully Embedded Kanthal Heating Element Non-Leaching Materials Heavy Metal Compliant BPA-Free + Pesticide Fee
Effects
Energetic
Happy
Creative
Focused
Inspired
View Product Testing Data
CBD (Cannabidiol)
0.34%
CBD (Cannabidiol)-0.34%
CBD is the second most prevalent cannabinoid and is primarily produced by hemp plants and at lower amounts in cannabis. It works as a phytocannabinoid, or binding agent, that adheres to an individual's endocannabinoid system. Cannabidiol has soared in popularity due to its lack of psychoactive effects. Most users seek CBD for its medicinal properties since it was the first cannabinoid to be approved by the FDA. Its healing properties include an ability to help you relax, reduce irritability and ease restlessness.
CBG (Cannabigerol)
3.5%
CBG (Cannabigerol)-3.5%
Cannabinoids are synthesized by Cannabigerolic Acid. CBG is the decarboxylated form of this acid that appears at low levels in most cannabis plants. Because its properties are beneficial to multiple parts of the endocannabinoid system, CBG has a wide range of therapeutic uses. It is non-psychotropic and can provide analgesic and antidepressant qualities.
CBN (Cannabinol)
0.91%
CBN (Cannabinol)-0.91%
CBN is a cannabinoid that is created during the breakdown of THC by UV light and exposure to oxygen. This breakdown usually begins during the drying and curing process. CBN is most commonly found in older or improperly stored cannabis samples. This compound is mildly psychoactive and is best known for its sedative effects. Strains and products with high concentrations of CBN can be a great choice for users looking to utilize cannabis products to ease restlessness and promote healthy sleep.