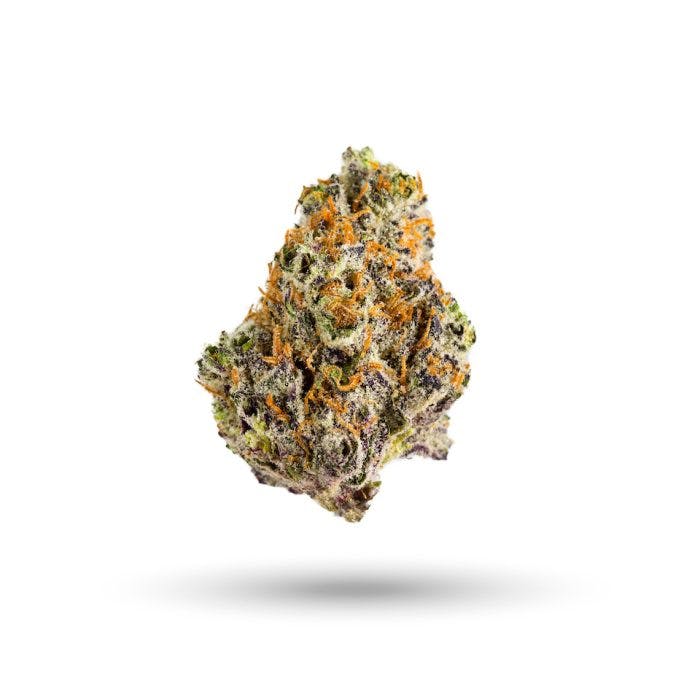 Brand: Good Chemistry Nurseries
Spanish Moon Flower | 3.5g | Good Chemistry
Hybrid
THC:21.15%
CBD:0.01%
Spanish Moon is a sight to behold! It has stunning purple buds with orange pistils and a layer of trichomes that shine like stars. Spanish Moon has a sweet and earthy aroma followed by a sweet fruity taste. Consumers of this hybrid typically report feeling relaxed and relieved.
Effects
Calm
Relaxed
Happy
Energetic
View Product Testing Data
CBGA (Cannabigerolic acid)
0.6%
CBGA (Cannabigerolic acid)-0.6%
CBGA is often referred to as the, "Father or Mother of all Cannabinoids". This is because CBGA is situated at the very top of the cascading reaction that creates THCA, CBDA and CBCA which, through decarboxylation, are turned into the three major cannabinoids THC, CBD and CBC. Currently there is little research being conducted on the medical benefits of CBGA, although it has shown extremely promising results when looking at the interaction between CBGA and colon cancer cells. When CBGA was applied directly to colon cancer cells not only did it destroy the cancer cells, but it also stopped the proliferation of new cancer cells. More research is certainly needed, but these preliminary results are extremely encouraging.
"TAC" - Total Active Cannabinoids
21.71%
"TAC" - Total Active Cannabinoids-21.71%
Total active cannabinoids represent the total amount of active cannabinoids at the time of lab testing. This total of active cannabinoids considers all of the active compounds that the product holds.
About the brand :
Good Chemistry Nurseries
Good Chemistry Nurseries founder/CEO Matt Huron traces his horticultural roots to his grandparents who were farmers before settling in Worcester, Massachusetts 25 years ago. "I spent a lot of time with my grandparents when I was growing up," he explains, "and they really instilled in me a passion for agriculture, and the feeling that comes with building and growing something special." Good Chemistry currently employs more than 150 passionate team members, operating dispensaries in Denver and Aurora. The company has developed and implemented best practices in the medical and retail marijuana industry in Colorado and Massachusetts. Since its foundation, Good Chemistry has expanded its Colorado cultivation operations to Nevada and Massachusetts, with five cultivation facilities that are devoted solely to the production of more than 60 strains of marijuana. In addition, the company has optimized the production of extracts and concentrates through solvent-less processing.