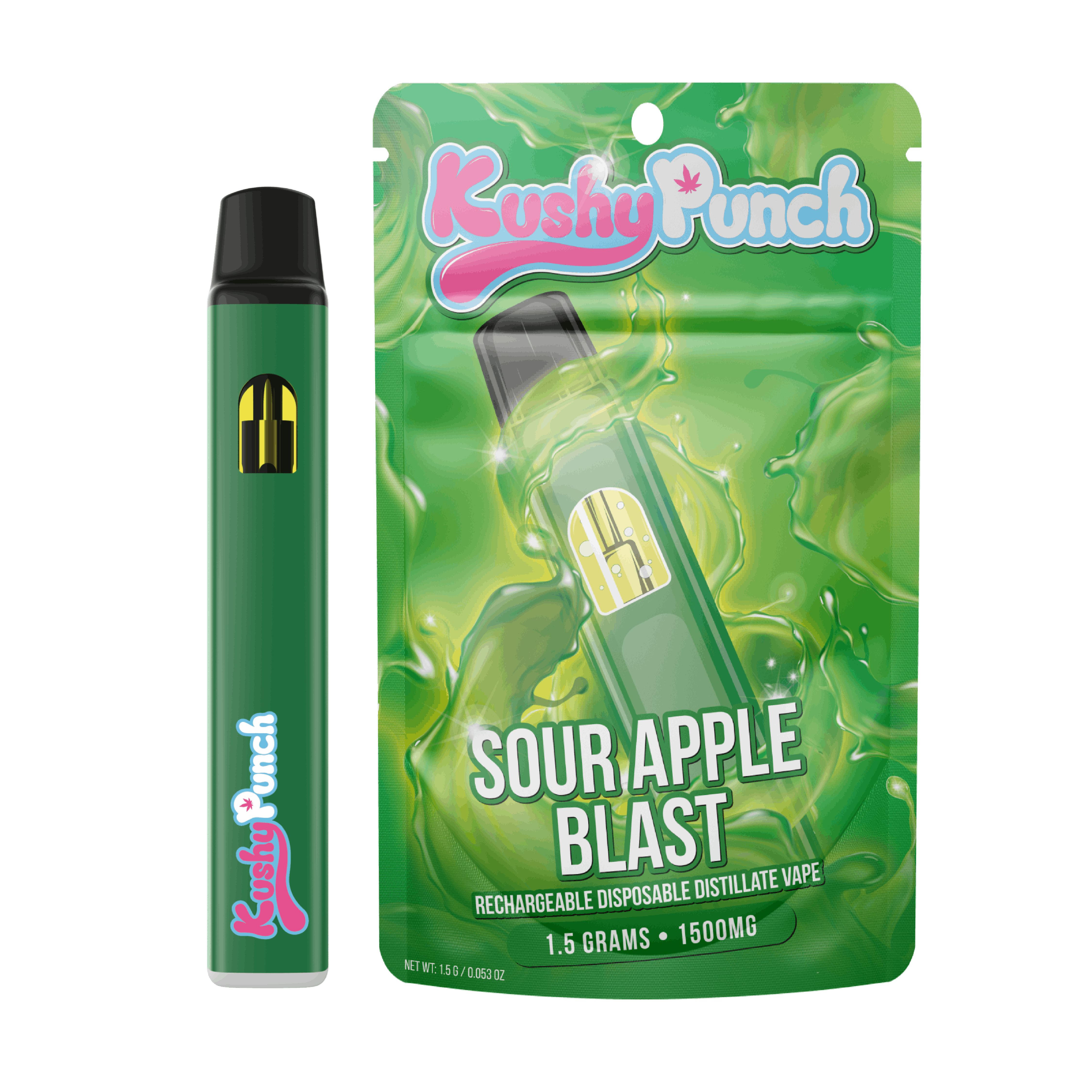 Brand: Kushy Punch
Sour Apple Blast Disposable Cartridge | 1.5g | Kushy Punch
1.5G of amazing all-natural great-tasting flavor! USB-C rechargeable so you can always KEEP IT KUSHY! Disposable vaporizers contain concentrated cannabis oil that is heated by an attached battery and inhaled. These products come charged and ready to go.
Effects
Calm
Happy
Relaxed
Energetic
View Product Testing Data
CBC (Cannabichromene)
0.91%
CBC (Cannabichromene)-0.91%
CBC is a unique cannabinoid and is best known for its ability to bind to the TRPV1 and TRPA1 receptors in the brain which are responsible for pain perception. Topical applications of products high in CBC have also shown promise for the treatment of osteoarthritis symptoms and in the treatment of skin conditions such as acne.
CBG (Cannabigerol)
2.31%
CBG (Cannabigerol)-2.31%
Cannabinoids are synthesized by Cannabigerolic Acid. CBG is the decarboxylated form of this acid that appears at low levels in most cannabis plants. Because its properties are beneficial to multiple parts of the endocannabinoid system, CBG has a wide range of therapeutic uses. It is non-psychotropic and can provide analgesic and antidepressant qualities.
CBN (Cannabinol)
0.47%
CBN (Cannabinol)-0.47%
CBN is a cannabinoid that is created during the breakdown of THC by UV light and exposure to oxygen. This breakdown usually begins during the drying and curing process. CBN is most commonly found in older or improperly stored cannabis samples. This compound is mildly psychoactive and is best known for its sedative effects. Strains and products with high concentrations of CBN can be a great choice for users looking to utilize cannabis products to ease restlessness and promote healthy sleep.
THC-D9 (Delta 9–tetrahydrocannabinol)
70.19
THC-D9 (Delta 9–tetrahydrocannabinol)-70.19
Delta 9 THC is the primary compound found in the resinous glands of a cannabis plant, and is directly responsible for psychoactive effects. It mirrors the body's naturally occurring cannabinoids and attaches to these receptors to alter and enhance sensory perception. THC can create a feeling of euphoria by enhancing dopamine levels in the brain. The amount of THC in a cannabis product can vary widely based on the method of consumption and the strain at the source of that product. The high that is produced is often enhanced by the "entourage effect" which is a combination of multiple cannabinoids in conjunction with various terpenes and individual body chemistry.
THCA (Δ9-tetrahydrocannabinolic acid)
0.13%
THCA (Δ9-tetrahydrocannabinolic acid)-0.13%
THCA is a cannabis compound with a laundry list of potential mental and physical health benefits. THCA is the non-psychoactive precursor to THC, the most famous cannabinoid of all. While THC is responsible for the psychoactive "high" that so many of us enjoy, THCA has shown great promise as an anti-inflammatory, neuroprotectant and anti-emetic for appetite loss and treatment of nausea. THCA is found in its highest levels in living or freshly harvested cannabis samples. For this reason some users choose to juice fresh cannabis leaves and flowers to get as much THCA as possible.
THCV (Tetrahydrocannabivarin)
0.45%
THCV (Tetrahydrocannabivarin)-0.45%
THCV sets itself apart from its cousin THC with its distinct lack of psychoactive effects. THCV also acts as an allosteric modulator for Delta-9-THC thus reducing its psychoactivity. It has been found to be helpful as an appetite suppressant, neuroprotectant and glycemic control in type 2 diabetics.
"TAC" - Total Active Cannabinoids
70.3%
"TAC" - Total Active Cannabinoids-70.3%
Total active cannabinoids represent the total amount of active cannabinoids at the time of lab testing. This total of active cannabinoids considers all of the active compounds that the product holds.
About the brand :
Kushy Punch
FEEL THE POWER OF THE PUNCH Seriously potent cannabis gummies! KushyPunch is one of California's iconic cannabis brands, and the top-selling gummy in the Golden State. Locally sourced full spectrum oil, a science-forward approach and lush full body high has made KushyPunch a favorite for recreational and medical consumers.