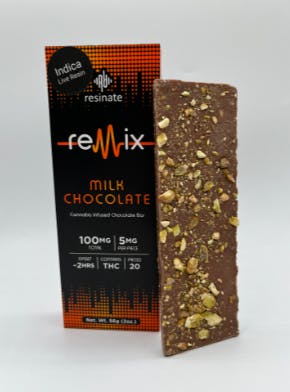 Brand: Resinate
Pistachio Milk Chocolate Sativa Live Resin Bar | 100mg | Remix
We created Remix by starting with a local, legendary New England chocolatier's family recipe made right in central Mass and mixing it with our own premium live resin in handcrafted, small batches. By using fresh frozen cannabis the full integrity of the plant is preserved and may deliver a more complex experience. Remix by Resinate is a luxurious, creamy treat available in Milk Chocolate, White Chocolate, and Dark Chocolate and limited-edition flavor mash-up varieties mixing in potato chips, pistachios, and cookies with our craft chocolates!
Effects
Relaxed
Sleepy
Happy
View Product Testing Data
CBG (Cannabigerol)
3
CBG (Cannabigerol)-3
Cannabinoids are synthesized by Cannabigerolic Acid. CBG is the decarboxylated form of this acid that appears at low levels in most cannabis plants. Because its properties are beneficial to multiple parts of the endocannabinoid system, CBG has a wide range of therapeutic uses. It is non-psychotropic and can provide analgesic and antidepressant qualities.
CBGA (Cannabigerolic acid)
2.4
CBGA (Cannabigerolic acid)-2.4
CBGA is often referred to as the, "Father or Mother of all Cannabinoids". This is because CBGA is situated at the very top of the cascading reaction that creates THCA, CBDA and CBCA which, through decarboxylation, are turned into the three major cannabinoids THC, CBD and CBC. Currently there is little research being conducted on the medical benefits of CBGA, although it has shown extremely promising results when looking at the interaction between CBGA and colon cancer cells. When CBGA was applied directly to colon cancer cells not only did it destroy the cancer cells, but it also stopped the proliferation of new cancer cells. More research is certainly needed, but these preliminary results are extremely encouraging.
THCA (Δ9-tetrahydrocannabinolic acid)
3.6
THCA (Δ9-tetrahydrocannabinolic acid)-3.6
THCA is a cannabis compound with a laundry list of potential mental and physical health benefits. THCA is the non-psychoactive precursor to THC, the most famous cannabinoid of all. While THC is responsible for the psychoactive "high" that so many of us enjoy, THCA has shown great promise as an anti-inflammatory, neuroprotectant and anti-emetic for appetite loss and treatment of nausea. THCA is found in its highest levels in living or freshly harvested cannabis samples. For this reason some users choose to juice fresh cannabis leaves and flowers to get as much THCA as possible.
"TAC" - Total Active Cannabinoids
96.2
"TAC" - Total Active Cannabinoids-96.2
Total active cannabinoids represent the total amount of active cannabinoids at the time of lab testing. This total of active cannabinoids considers all of the active compounds that the product holds.
About the brand :
Resinate
Resinate started out as a small, dedicated team of cannabis cultivators with one lofty goal: to build a brand from scratch that brings out the absolute best in every plant they grow. With backgrounds in horticulture, chemistry, academics, and biosystems engineering, this tight-knit crew draws on a wide range of applied experience, but at the center of it is a deep passion and respect for the plant that brought us together. It shines through in every high-quality product that is delivered. SO wether you're looking to tap into your own creativity, start a great conversation, or just lighten the mood, you're sure to find your spark with resinate.