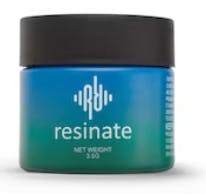 Brand: Resinate
Oregon Lemons Flower | 3.5g | Resinate
Hello, d-limonene! If you've ever snuck taste of lemonade powder – and not the "diet" kind, the real stuff – the scent of Oregon Lemons might bring back memories. These buds have beautiful contrast of dark and bright green. Expect an uplifting, even motivating initial effect that tapers into relaxation. This vibrant strain is great for socializing or a nightcap to end the day on a high note. Pun intended.
Effects
Happy
Relaxed
Sleepy
View Product Testing Data
CBDA (Cannabidiolic acid)
0.13%
CBDA (Cannabidiolic acid)-0.13%
CBDA is a derivative of CBGA and the precursor to the well known cannabinoid CBD. Over the last decade scientists have found that CBDA has a very similar chemical structure to that of nonsteroidal anti-inflammatory drugs (NSAIDs) and thus has shown promise in treating pain due to inflammation by inhibiting COX-2 receptors in the brain that register pain. CBDA has also been shown to help regulate the over release of serotonin that causes severe nausea and vomiting in patients receiving chemotherapy, and while more thorough research is needed these results are very promising.
CBG (Cannabigerol)
0.11%
CBG (Cannabigerol)-0.11%
Cannabinoids are synthesized by Cannabigerolic Acid. CBG is the decarboxylated form of this acid that appears at low levels in most cannabis plants. Because its properties are beneficial to multiple parts of the endocannabinoid system, CBG has a wide range of therapeutic uses. It is non-psychotropic and can provide analgesic and antidepressant qualities.
THCA (Δ9-tetrahydrocannabinolic acid)
28.3%
THCA (Δ9-tetrahydrocannabinolic acid)-28.3%
THCA is a cannabis compound with a laundry list of potential mental and physical health benefits. THCA is the non-psychoactive precursor to THC, the most famous cannabinoid of all. While THC is responsible for the psychoactive "high" that so many of us enjoy, THCA has shown great promise as an anti-inflammatory, neuroprotectant and anti-emetic for appetite loss and treatment of nausea. THCA is found in its highest levels in living or freshly harvested cannabis samples. For this reason some users choose to juice fresh cannabis leaves and flowers to get as much THCA as possible.
About the brand :
Resinate
Resinate started out as a small, dedicated team of cannabis cultivators with one lofty goal: to build a brand from scratch that brings out the absolute best in every plant they grow. With backgrounds in horticulture, chemistry, academics, and biosystems engineering, this tight-knit crew draws on a wide range of applied experience, but at the center of it is a deep passion and respect for the plant that brought us together. It shines through in every high-quality product that is delivered. SO wether you're looking to tap into your own creativity, start a great conversation, or just lighten the mood, you're sure to find your spark with resinate.