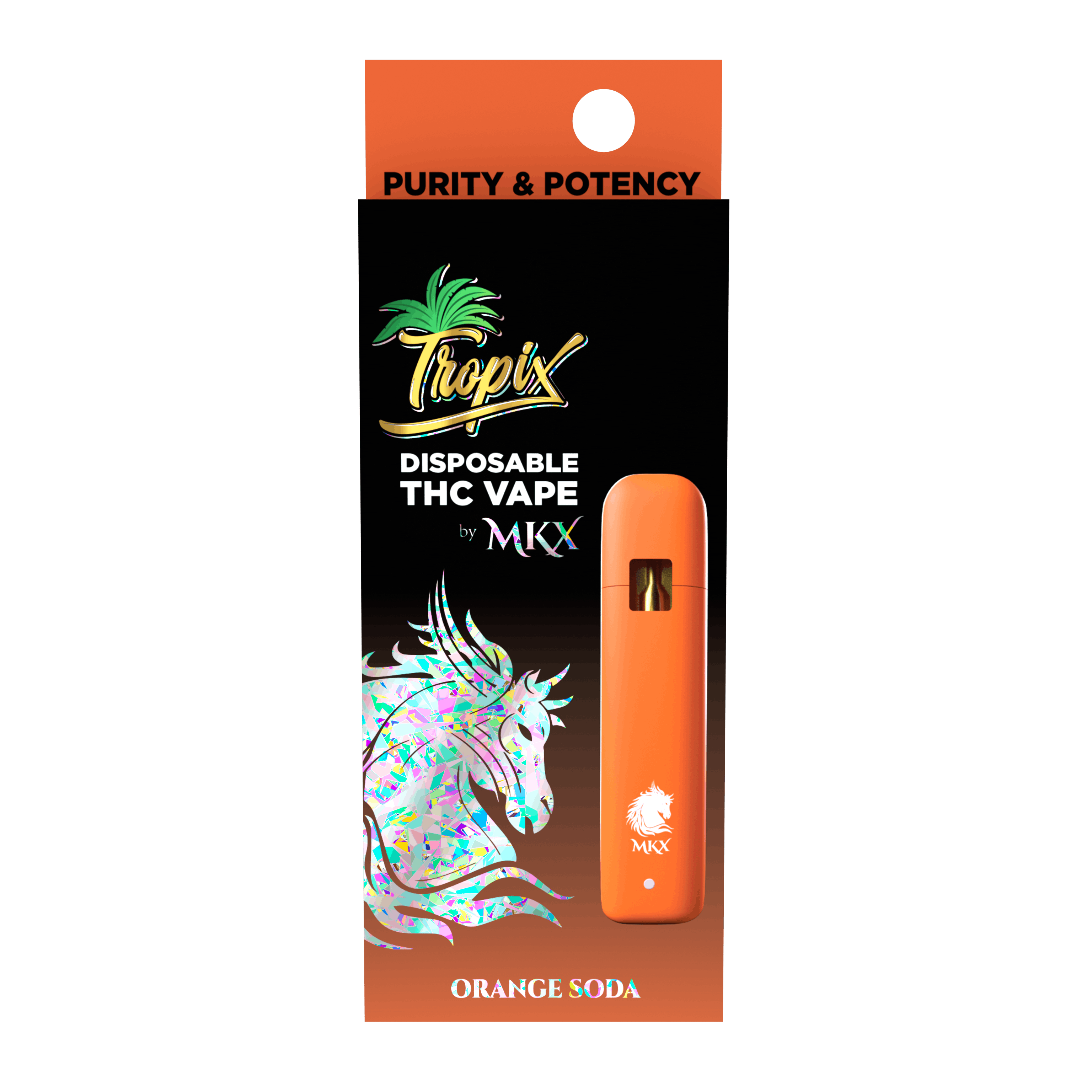 Brand: MKX Oil Co.
Orange Soda Disposable Cartridge | 1g | MKX TropiX
Hybrid
THC:79.91%
CBD:0.26%
Rechargeable Disposable Battery, 1g Premium Distillate: Orange Soda Introducing MKX's new TropiX Disposables. Take a vacation whenever, and now wherever. While utilizing a sleek, lightweight, and highly portable design. MKX pairs premium distillate with High-quality terpenes, to transport anyone and everyone to paradise. Full gram disposable cartridges with a wide assortment of tasty tropical flavors. It's a vacation in your pocket with MKX's TropiX Disposables.
Effects
Calm
Happy
Relaxed
Energetic
View Product Testing Data
CBG (Cannabigerol)
2.75%
CBG (Cannabigerol)-2.75%
Cannabinoids are synthesized by Cannabigerolic Acid. CBG is the decarboxylated form of this acid that appears at low levels in most cannabis plants. Because its properties are beneficial to multiple parts of the endocannabinoid system, CBG has a wide range of therapeutic uses. It is non-psychotropic and can provide analgesic and antidepressant qualities.
CBN (Cannabinol)
2.2%
CBN (Cannabinol)-2.2%
CBN is a cannabinoid that is created during the breakdown of THC by UV light and exposure to oxygen. This breakdown usually begins during the drying and curing process. CBN is most commonly found in older or improperly stored cannabis samples. This compound is mildly psychoactive and is best known for its sedative effects. Strains and products with high concentrations of CBN can be a great choice for users looking to utilize cannabis products to ease restlessness and promote healthy sleep.
THCA (Δ9-tetrahydrocannabinolic acid)
0.52%
THCA (Δ9-tetrahydrocannabinolic acid)-0.52%
THCA is a cannabis compound with a laundry list of potential mental and physical health benefits. THCA is the non-psychoactive precursor to THC, the most famous cannabinoid of all. While THC is responsible for the psychoactive "high" that so many of us enjoy, THCA has shown great promise as an anti-inflammatory, neuroprotectant and anti-emetic for appetite loss and treatment of nausea. THCA is found in its highest levels in living or freshly harvested cannabis samples. For this reason some users choose to juice fresh cannabis leaves and flowers to get as much THCA as possible.
"TAC" - Total Active Cannabinoids
85.64%
"TAC" - Total Active Cannabinoids-85.64%
Total active cannabinoids represent the total amount of active cannabinoids at the time of lab testing. This total of active cannabinoids considers all of the active compounds that the product holds.
About the brand :
MKX Oil Co.
The Standard in Purity and Potency MKX Oil Co is a true patient-over-profit company. Michigan medical cannabis patients have access to the cleanest, high-potency cartridges crafted with care and the most attention to detail. Integrity is essential to MKX Oil Co. This dedicated team produces premium medical cannabis cartridges with the highest standards and most transparency. MKX Oil Co is here to the rescue, supplying Michigan the healthiest, organically cultivated, pesticide-free, and chemical-free cannabis products.