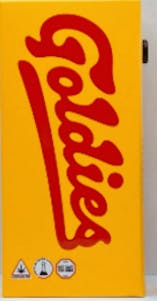 Brand: Society
Legend's Nookie x Blue Dream Distillate Cartridge | 1g | Goldies
Natures Heritage Cannabis Co. crossed some OG genetics referred to as the Legend Cut with a sativa dominant strain called Nookies. The result is a tart and funky-smelling strain that pays homage to the effects of both classic Kush parent strains. Blue Dream is a sativa-dominant hybrid marijuana strain made by crossing Blueberry with Haze. This strain produces a balanced high, along with possible effects such as cerebral stimulation and full-body relaxation. Our Distillate is a refined cannabis oil that has been separated from plant waxes, fats, and chlorophyll. It is then distilled "cleaning" the oil from any botanical particles. This distillation creates a cannabis extract that are pure on a molecular level that it has a much higher TAC potency than our Sauce. Goldies, delivering consistent, premium quality, concentrates that are As Good as Gold.
Effects
Happy
Energetic
Creative
Focused
Inspired
View Product Testing Data
Para Isopropyltouluene
0mg
Para Isopropyltouluene
0mg
Para Isopropyltouluene is also known as Para-Cymene, and commonly referred to as p-Cymene. p-Cymene is a monoterpene compound with a sweet citrus aroma. It is found in the essential oils of many plants including thyme, grapefruit, oregano, and cannabis. Para-Cymene has shown great promise as an anti-fungal and can be found in many different topical applications.
Aromas
Sweet
Citrus
Potential Health Benefits
Anti-fungal
Anti-oxidant
Cancer Fighting
Pain Relief
CBG (Cannabigerol)
2.86%
CBG (Cannabigerol)-2.86%
Cannabinoids are synthesized by Cannabigerolic Acid. CBG is the decarboxylated form of this acid that appears at low levels in most cannabis plants. Because its properties are beneficial to multiple parts of the endocannabinoid system, CBG has a wide range of therapeutic uses. It is non-psychotropic and can provide analgesic and antidepressant qualities.
CBN (Cannabinol)
0.53%
CBN (Cannabinol)-0.53%
CBN is a cannabinoid that is created during the breakdown of THC by UV light and exposure to oxygen. This breakdown usually begins during the drying and curing process. CBN is most commonly found in older or improperly stored cannabis samples. This compound is mildly psychoactive and is best known for its sedative effects. Strains and products with high concentrations of CBN can be a great choice for users looking to utilize cannabis products to ease restlessness and promote healthy sleep.
About the brand :
Society
SOCIETY GIVES BACK TO COMMUNITIES – THROUGH THEIR SUPPORT A PURPOSE INITIATIVE, THE TOP SELLING DISPENSARY IN EACH QUARTER WILL RECEIVE A DONATION TO A CHARITY OF THEIR CHOICE