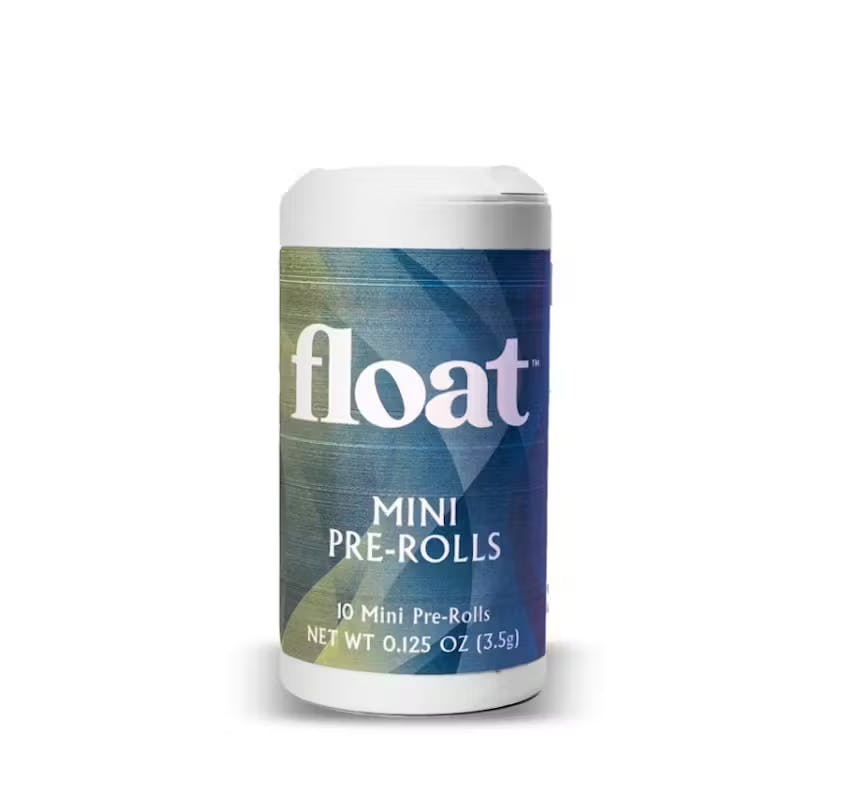 Brand: Float
Indica Blend Pre-Roll 0.35g 10pk | 3.5g | Float
Grab a full eighth rolled into 10 single serve joints. Perfect for on the go. Float Mini Pre-rolls take our custom sativa, hybrid and indica blends and package them in a perfectly petite 0.35g size. They're the right amount for a quick pick-me-up whenever you need it—whether you're walking the dog, washing the dishes or watching the sunset. THC and CBD potency may vary.
Effects
Relaxed
Sleepy
Happy
View Product Testing Data
THCA (Δ9-tetrahydrocannabinolic acid)
23.3%
THCA (Δ9-tetrahydrocannabinolic acid)-23.3%
THCA is a cannabis compound with a laundry list of potential mental and physical health benefits. THCA is the non-psychoactive precursor to THC, the most famous cannabinoid of all. While THC is responsible for the psychoactive "high" that so many of us enjoy, THCA has shown great promise as an anti-inflammatory, neuroprotectant and anti-emetic for appetite loss and treatment of nausea. THCA is found in its highest levels in living or freshly harvested cannabis samples. For this reason some users choose to juice fresh cannabis leaves and flowers to get as much THCA as possible.
"TAC" - Total Active Cannabinoids
27.1%
"TAC" - Total Active Cannabinoids-27.1%
Total active cannabinoids represent the total amount of active cannabinoids at the time of lab testing. This total of active cannabinoids considers all of the active compounds that the product holds.
About the brand :
Float
Feeling truly well is a gift—and everyone should be able to achieve it. Here to empower you and your family to unlock all the benefits of cannabis with the safest, highest quality products and a welcoming experience that's designed to help you feel your best.