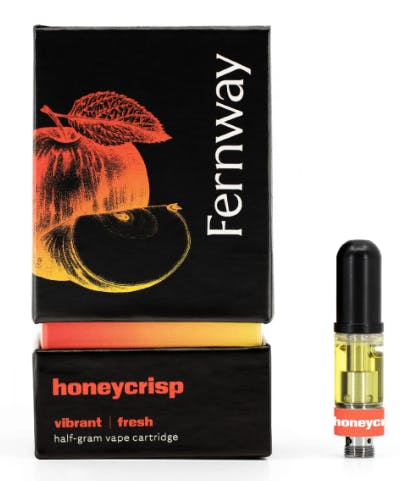 Brand: Fernway
Honeycrisp Distillate Cartridge | .5g | Fernway
Perfectly crisp and juicy like an orchard-fresh handpicked apple. Life just got sweeter. ? Pairs great with: Long drives during peak foliage Strong coffee on cool mornings Warm cider donuts from the orchard ? Fernway's Flavor Line is made with high-purity cannabis oil & natural terpenes. This product has been tested for contaminants, including Vitamin E acetate, with no adverse findings. Warning: Vaporizer products may contain ingredients harmful to health when inhaled.
Effects
Energetic
Happy
Creative
Focused
Inspired
View Product Testing Data
CBD (Cannabidiol)
0.3%
CBD (Cannabidiol)-0.3%
CBD is the second most prevalent cannabinoid and is primarily produced by hemp plants and at lower amounts in cannabis. It works as a phytocannabinoid, or binding agent, that adheres to an individual's endocannabinoid system. Cannabidiol has soared in popularity due to its lack of psychoactive effects. Most users seek CBD for its medicinal properties since it was the first cannabinoid to be approved by the FDA. Its healing properties include an ability to help you relax, reduce irritability and ease restlessness.
CBG (Cannabigerol)
2.57%
CBG (Cannabigerol)-2.57%
Cannabinoids are synthesized by Cannabigerolic Acid. CBG is the decarboxylated form of this acid that appears at low levels in most cannabis plants. Because its properties are beneficial to multiple parts of the endocannabinoid system, CBG has a wide range of therapeutic uses. It is non-psychotropic and can provide analgesic and antidepressant qualities.
CBN (Cannabinol)
1%
CBN (Cannabinol)-1%
CBN is a cannabinoid that is created during the breakdown of THC by UV light and exposure to oxygen. This breakdown usually begins during the drying and curing process. CBN is most commonly found in older or improperly stored cannabis samples. This compound is mildly psychoactive and is best known for its sedative effects. Strains and products with high concentrations of CBN can be a great choice for users looking to utilize cannabis products to ease restlessness and promote healthy sleep.
THCA (Δ9-tetrahydrocannabinolic acid)
0.14%
THCA (Δ9-tetrahydrocannabinolic acid)-0.14%
THCA is a cannabis compound with a laundry list of potential mental and physical health benefits. THCA is the non-psychoactive precursor to THC, the most famous cannabinoid of all. While THC is responsible for the psychoactive "high" that so many of us enjoy, THCA has shown great promise as an anti-inflammatory, neuroprotectant and anti-emetic for appetite loss and treatment of nausea. THCA is found in its highest levels in living or freshly harvested cannabis samples. For this reason some users choose to juice fresh cannabis leaves and flowers to get as much THCA as possible.
About the brand :
Fernway
Fernway creates exceptional cannabis vapes for people who celebrate the good life: good food, good music, good scenery, and good company. By combining premium custom hardware, delicious natural terpenes, and high-purity distilled oil, they bring you the best-in-class vape cartridge you deserve. Fernway believes cannabis makes the good life even better. As passionate cannabis consumers, they've learned how a cannabis vape can elevate good experiences into great ones. And they want to share that with you. Their vapes deliver undeniable style and outstanding flavor. Each one meets their uncompromising quality standards so you can choose Fernway with confidence and focus on savoring every moment. The name is inspired by fernweh – which means a longing for faraway places. It's at the heart of why we love cannabis. It's the feeling that moves us all to explore new things, and to experience the familiar with a new perspective. It's the pure excitement of seeking out the good life, and the deep satisfaction of finding it.