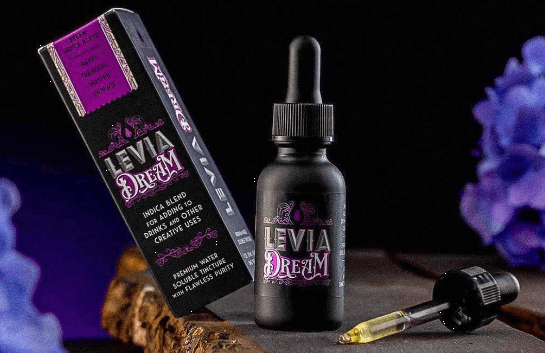 Brand: LEVIA
Dream Indica Tincture | 300mg | LEVIA
LEVIA & Chill with LEVIA Dream Indica blend for that relaxing, easy feeling. "At LEVIA, we are creating the best tasting social seltzer EVER. Rooted in simple, all-natural ingredients, LEVIA will elevate our experience with a fast & predictable onset of effects. Elevate Your Experiences with our Idyllic Water Soluble Tinctures. Mix into your favorite drink, or get creative." LEVIA Dream unwinds: -Relaxing on the couch -Nighttime rituals -Massage and spa days -Taking the edge off anytime
Effects
Relaxed
Sleepy
Happy
View Product Testing Data
Para Isopropyltouluene
0mg
Para Isopropyltouluene
0mg
Para Isopropyltouluene is also known as Para-Cymene, and commonly referred to as p-Cymene. p-Cymene is a monoterpene compound with a sweet citrus aroma. It is found in the essential oils of many plants including thyme, grapefruit, oregano, and cannabis. Para-Cymene has shown great promise as an anti-fungal and can be found in many different topical applications.
Aromas
Sweet
Citrus
Potential Health Benefits
Anti-fungal
Anti-oxidant
Cancer Fighting
Pain Relief
CBG (Cannabigerol)
0.04
CBG (Cannabigerol)-0.04
Cannabinoids are synthesized by Cannabigerolic Acid. CBG is the decarboxylated form of this acid that appears at low levels in most cannabis plants. Because its properties are beneficial to multiple parts of the endocannabinoid system, CBG has a wide range of therapeutic uses. It is non-psychotropic and can provide analgesic and antidepressant qualities.
CBN (Cannabinol)
0.02
CBN (Cannabinol)-0.02
CBN is a cannabinoid that is created during the breakdown of THC by UV light and exposure to oxygen. This breakdown usually begins during the drying and curing process. CBN is most commonly found in older or improperly stored cannabis samples. This compound is mildly psychoactive and is best known for its sedative effects. Strains and products with high concentrations of CBN can be a great choice for users looking to utilize cannabis products to ease restlessness and promote healthy sleep.
"TAC" - Total Active Cannabinoids
303
"TAC" - Total Active Cannabinoids-303
Total active cannabinoids represent the total amount of active cannabinoids at the time of lab testing. This total of active cannabinoids considers all of the active compounds that the product holds.
THCA (Δ9-tetrahydrocannabinolic acid)
303
THCA (Δ9-tetrahydrocannabinolic acid)-303
THCA is a cannabis compound with a laundry list of potential mental and physical health benefits. THCA is the non-psychoactive precursor to THC, the most famous cannabinoid of all. While THC is responsible for the psychoactive "high" that so many of us enjoy, THCA has shown great promise as an anti-inflammatory, neuroprotectant and anti-emetic for appetite loss and treatment of nausea. THCA is found in its highest levels in living or freshly harvested cannabis samples. For this reason some users choose to juice fresh cannabis leaves and flowers to get as much THCA as possible.
About the brand :
LEVIA
LEVIA has been creating the best tasting social seltzer. Rooted in simple, all-natural ingredients, LEVIA will elevate your experience with a fast & predictable onset of effects. After years of research, they unlocked the secret to crisp & refreshing cannabis-infused drinks. And ever since, the days are lively, the nights are chill, and spirits are buoyed for friends and family alike. LEVIA is excited to share all of our Elevated Experiences with you.