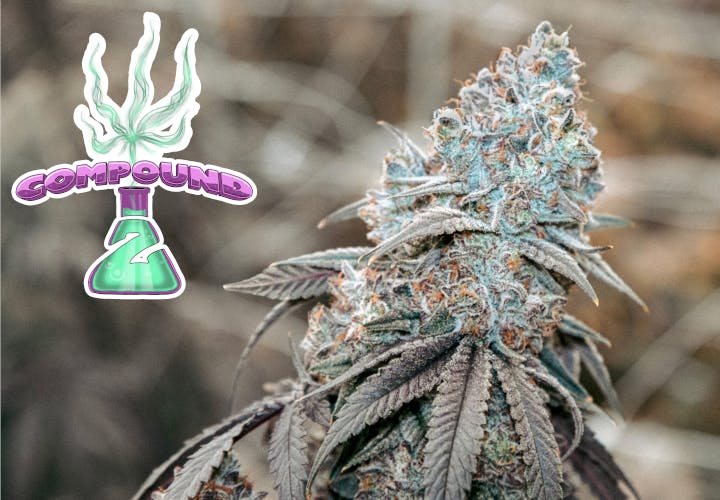 Brand: Strane
Compound Z Flower | 3.5g | STRANE
Compound Z is an indica dominant strain with a lineage of Apples & Bananas crossed with White Runtz. You get a gassy, fruity aroma along with a sweet and spicy flavor profile from this delectable strain. Compound Z has a happy, relaxing high that sets into your body, helping to combat chronic pain, stress and anxiety. The perfect strain for consumers who want to take the edge off after a stressful day.
Effects
Relaxed
Sleepy
Happy
View Product Testing Data
CBG (Cannabigerol)
0.16%
CBG (Cannabigerol)-0.16%
Cannabinoids are synthesized by Cannabigerolic Acid. CBG is the decarboxylated form of this acid that appears at low levels in most cannabis plants. Because its properties are beneficial to multiple parts of the endocannabinoid system, CBG has a wide range of therapeutic uses. It is non-psychotropic and can provide analgesic and antidepressant qualities.
CBGA (Cannabigerolic acid)
0.409%
CBGA (Cannabigerolic acid)-0.409%
CBGA is often referred to as the, "Father or Mother of all Cannabinoids". This is because CBGA is situated at the very top of the cascading reaction that creates THCA, CBDA and CBCA which, through decarboxylation, are turned into the three major cannabinoids THC, CBD and CBC. Currently there is little research being conducted on the medical benefits of CBGA, although it has shown extremely promising results when looking at the interaction between CBGA and colon cancer cells. When CBGA was applied directly to colon cancer cells not only did it destroy the cancer cells, but it also stopped the proliferation of new cancer cells. More research is certainly needed, but these preliminary results are extremely encouraging.
"TAC" - Total Active Cannabinoids
25.92%
"TAC" - Total Active Cannabinoids-25.92%
Total active cannabinoids represent the total amount of active cannabinoids at the time of lab testing. This total of active cannabinoids considers all of the active compounds that the product holds.
About the brand :
Strane
Strane has no pretense and plenty of personality. It almost literally winks at you with a set of "eye-cons" for sativas, hybrids and indicas. They're all about the story of each strain, and the needs and tastes of each medical patient and adult-use enthusiast. Thanks for smoking, vaping and dabbing with us.